Mom, Teacher, Author, Illustrator, Lover of Kindness
I am a mom, grandma, animal lover, former professor, devoted wife, author and illustrator, who believes that kids will be adults soon enough—very soon.  And what we feed their minds now will determine what kind of adults they will be.
I love creating characters and bringing them to life, interacting with each other.  And I adore creating books that are beautiful and inviting, filled with stories and illustrations to be loved by children and adults for years to come.
When I think back to scribbling crayon in my favorite book, I remember how completely yummy that blue-green crayon was as it layered over the bright yellow illustration.  I could taste it (and probably did!).  But my mom was brilliant.  She never berated those first scribblings.  She just bought me more books, and then an easel when I was 6, complete with luscious finger paints, charcoal, more crayons, brushes, and just scrumptious stuff.  When I was 12, she put me in art school to work in oils.  I savored the smell of the linseed oil and the feel of cleaning the brushes with soap in the palm of my hand.  It was all so tactile.  Perfect for a kid.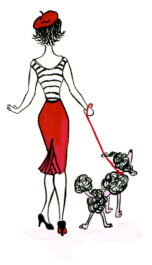 My love for France also began when I was 5, when my mom and grandmother introduced me to my French heritage.  I remember the day well, when they showed me French art (I fell in LOVE with Maurice Utrillo), culture, and (OMG) can-can girls.  That was it—I dragged out my bright red froo-froo petticoat, and I was on my way.
When I was 9, I got my first Eloise in Paris book.  I got my first poodle, sweet Tinkerbell, when I was 13.  My love of everything French has never left me.
And while I was soaking in all this gorgeous stuff, I would line up all my dolls and stuffed animals in neat little rows on my bed and teach school from my tiny blackboard on my closet door.  I know.  A freakin' teacher even then.
But like a lot of kids, I turned away from my childhood dreams in my early adult years until I woke up, went back to school, and followed my own path, which included my love of teaching.
So, after a brief, two-year stint with Mattel as an executive assistant, I grew up to be a college professor teaching writing, art, children's literature, children's art, as well as humanities and art history.  During that journey I appeared on PBS as a featured interviewee, along with the director of the California Arts Council, for a discussion of children's art appreciation.
At the same time, I started writing several magazine articles and creating beautiful books for children with stories that inspire, comfort, and entertain.
I offer my unique perspective that comes from a lifetime love of picture books, an understanding of cultural heritage, and years of professional experience that include studying and teaching what children love (not to mention being a fly on the wall at the greatest toy manufacturer!).
If you're like me, you want access to books that are just plain good literature, that tell a good story your kids will fall in love with. Unique books created the old-fashioned way, with real storytelling and plots with fun, colorful illustrations.  Books filled with possibilities.  Books they can't wait to hold in their hands and read till they fall asleep.
I invite you to visit my other pages for upcoming projects, sign up for my studio newsletter, or email me with any requests, questions, or comments.  I look forward to meeting you and to helping you get the books kids love.
Did I mention I'm in my bliss?!
Together, we can help kids find theirs.
It's like flyin'!